Leveraging Digital Marketing to generate qualified Eco4 leads

Introduction:
Eco Real Insulation, a startup company in the UK specializes in
providing reliable heating, cooling, hot water, and energy solutions for
homes and businesses. The client was seeking a comprehensive digital
marketing strategy to reach a wider audience and drive more
applications, ultimately supporting the mission set by the UK Govt. to
advance energy sustainability.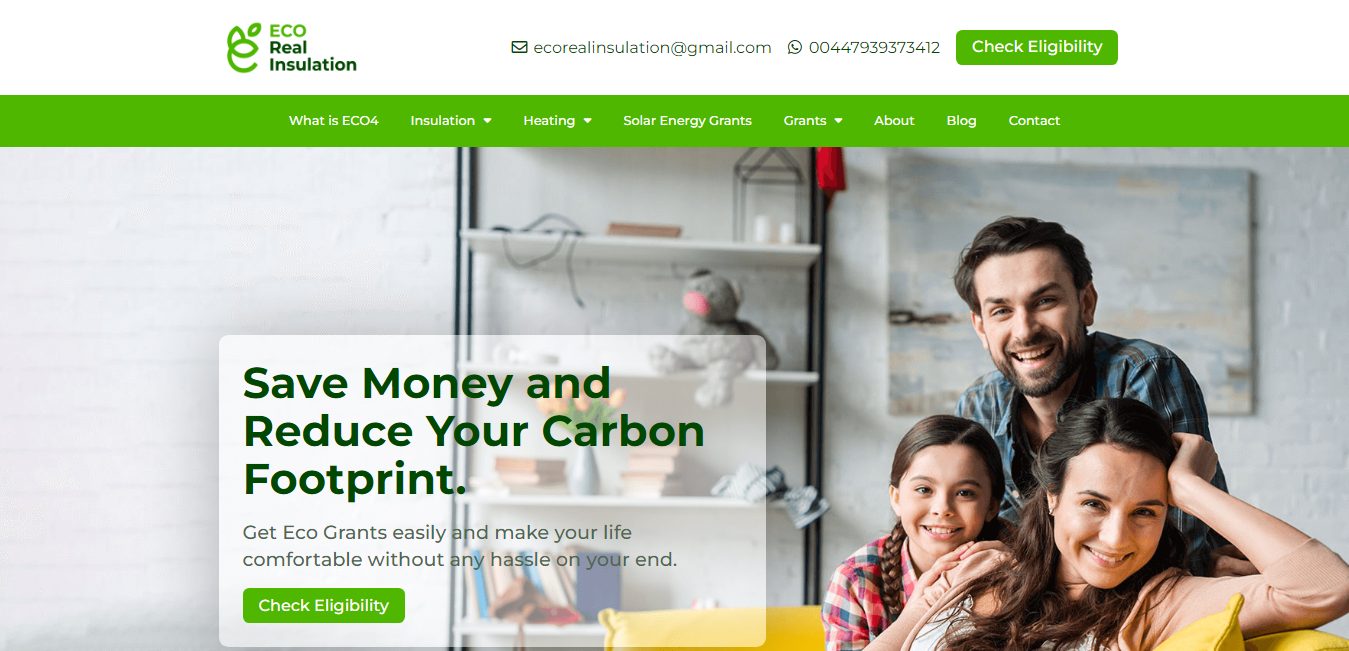 Challenges
Eco Real Insulation faced several challenges:
Bad Experiences
The client had bad experiences working with past agencies as they
weren't able to produce leads at all.
Results/Conversions
They had a result oriented mindset and didn't want to waste time and
budget on nonqualified leads
Lead Qualification
The client didn't want a large quantity of leads instead, they required
maximum qualified leads so their individual resource could handle
easily.
Convenience
The client was non-technical and had less budget and couldn't afford
an in-house team
They wanted to focus on their work and wanted the agency to manage all
digital tasks.
Strategy
Our digital marketing agency engaged with the client and discussed their industry, unique selling points, qualification criteria for grants and developed a multi-faceted strategy to address the clients' challenges:
Digital Presence
We conducted a thorough audit of the client's digital presence and setup their website, social media platforms & local business profile on google my business.
Content Marketing
We developed unique selling points, headlines, descriptions and content for their landing pages, creatives and digital platforms. This content was designed to catch, engage and drive relevant traffic to fill up eligibility forms
Social Media Marketing
We created and managed Eco Real Insulation' social media accounts on platforms such as Facebook, Instagram
Tracking and Analytics
We used web analytics and tracking tools to monitor the performance of our campaigns, making data-driven adjustments as needed increase results.
Paid Advertising
We ran targeted pay-per-click (PPC) advertising campaigns on Google and lead generation campaigns on social media platforms. campaigns were tailored to reach potential audience based on demographics, interests, and online behavior.
Execution
Our commitment to the client centered around delivering consistent results during the 2nd and 3rd months of our engagement for eco 4 qualified leads of Home Insulation, Boiler, First Time Central Heating, Air Source Heat Pump. In the initial month, the client faced considerable frustration stemming from account complications and restrictions, which prompted a desire to expedite progress. To address this challenge, we proactively engaged with the client and support, diligently working to remove the account restrictions and educating the client about the necessary requirements. During the 2nd month, the client experienced mixed results, which understandably led to some uncertainty. However, our team's unwavering assurance, data analysis, and diligent troubleshooting of issues provided the client with the necessary reassurance. As a result, by the time wereached the 3rd month, the client's demeanor had transformed into one of excitement and eagerness. They were actively encouraging us to scale up the campaigns, illustrating the remarkable progress achieved through our collaborative efforts. The client now has a clear roadmap to achieve their future targets only just by doing some math.
Leads Quantity
60 – 90 leads / month
Qualification Rate
approx. 50%